Salesforce DX in 5 Minutes
Blue Canvas makes leveraging Salesforce DX simple for admins and developers. You don't have to know anything about DX to get the benefits.
Request a Demo
No Command-Line
Spin up scratch orgs with a single click. Works for admins and developers of all stripes.
Deploy to Sandboxes
We normalize the different metadata directory structures between sandboxes and scratch orgs so you can deploy between both.
Feature Branching
Source control is built in. Every scratch org is automatically tied to a feature branch and declarative and code commits automatically tracked.
Same Workflow
Allow your team to leverage DX best practices without new training or maintaining scripts.
Create a Scratch Org with Metadata
Spin up a scratch org with a single click. No command-line needed. You can seed the scratch org with metadata from any of your other environments. Blue Canvas normalizes directory structures automatically.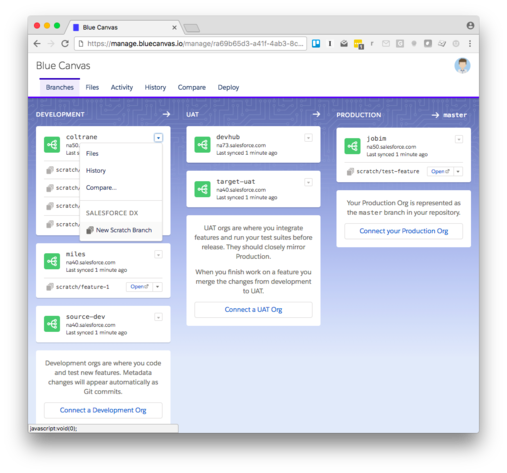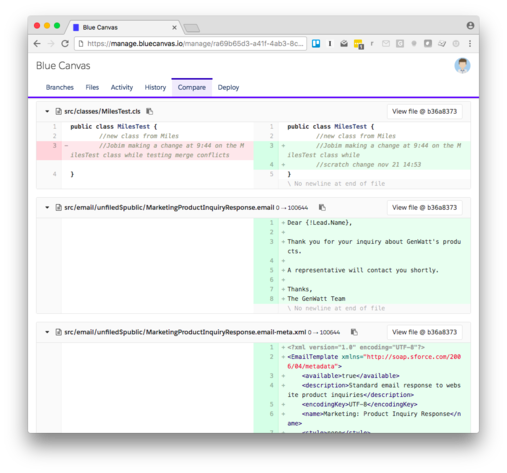 Automatic Feature Branch Commits
Blue Canvas automatically tracks declarative and code changes on the scratch org and commits it into a Git branch for that scratch org. No manual push to Git first. Quickly compare between orgs using Git diff.
Merge and Deploy into Mainline Branch
Deploy code back into the mainline branch in one single automated step. If we can't deploy we won't merge and if we can't merge we won't deploy. We handle directory structure normalization automatically so you don't have to worry about org compatibility.